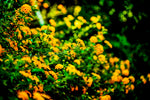 Five Easy To Grow Plants For Beginners
Gardening can be an intimidating hobby when you are first starting out.  People make it look easy but keeping a plant alive is a lot of work.  With a little practice, however, your green thumb will flourish.  Here are five (relatively) simple plants to grow that will help to build your confidence as you get started.
Marigolds: Marigolds are easy to grow and have bright, cheerful flowers that bloom all season long. They are also great at repelling pests, making them a great addition to any new garden.
Tomatoes: Tomatoes are a popular vegetable for beginner gardeners because they are relatively simple to grow and produce a bountiful harvest. They can be grown in containers or in the ground and require only regular watering and occasional fertilization.
Zinnias: Zinnias are annual flowers that come in a variety of colors and sizes. Not only are they fairly easy to grow - they attract butterflies and other pollinators to the garden.
Basil: Basil is a popular herb that is easy to grow in containers or in the ground. It requires regular watering and plentiful sunlight and produces fragrant leaves that can be used in a variety of your favorite culinary dishes.  
Sunflowers: Sunflowers are easy to grow and come in a variety of sizes and colors. They require regular watering and sunlight and attract bees and other pollinators to the garden. They also produce edible seeds that are fun to harvest and delicious to eat.
These five plants are great gardening 'starters" and will give your new garden variety, color, fragrance and plenty to harvest.  Applying Organic REV to your gardening routine can help to improve your results.  REV is an easy way to improve plant and soil health, increase yields and brighten colors.  REV also makes all of your plants a little more resilient - allowing you to make a few mistakes without damaging your end results.
Get out there today and begin your new garden.  Before you know it you will be a pro!