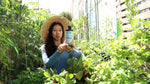 Tips To Eliminate Transplant Shock
Transplant your seedlings into your garden with confidence.  Dipping your roots in a 50/50 REV to water mix immediately before planting almost guarantees that your new plants will quickly adapt to their new home and continue to thrive.  REV eliminates transplant shock and encourages fast, healthy root growth.  REV also creates the ideal rootzone environment for optimal nutrient uptake.
Enjoy our friend Wendi Phan from Gardens of Wendiland as she experiments with using Organic REV to transplant.