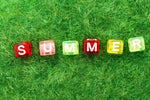 Protect Your Lawn From Summer Heat Stress
It may not be top of mind right now but summer heat is just around the corner.  How will you protect your lawn (and garden) from heat stress and other hot weather challenges?
Organic REV helps grasses and plants retain water and remain healthy through periods of extreme heat or drought.