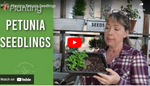 Professional Tips on Planting Seedlings with REV!
Gardening Experts Are Discovering the Dramatic Benefits of Organic REV as a Jump-Start to Their Seeds & Seedlings.
Even gardening and agricultural professionals are always looking for something new that can give them an edge in their growing. More and more of them are finding that Organic REV can provide them with that edge - especially in relation to jump-starting seeds at planting or seedlings at transplant. 
REV has been proven effective in numerous university studies and independent research trials to quickly establish a vibrant root zone for new or transplanted plants – and those same results have been seen by thousands of happy REV customers around the world.
The latest gardening expert to discover and assess REV is our new friend Pamela at Flower Patch Farmhouse.  Check out this video that she posted using REV on her new Petunia seedling transplants.