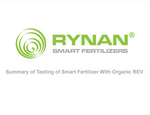 Trials in Vietnam Show That Highly Effective Rynan Smart Fertilizer is Even More Effective When Organic REV is Added.
Rynan Smart Fertilizer – which is made "smart" by a patented time-release nanocoating technology developed by prolific inventor Dr. My T Nguyen – has already proven to be a high-performing fertility platform in numerous studies and in the hands of thousands of satisfied farmer and gardener customers worldwide.
Recently however, the team at Rynan headquarters in Tra Vinh, Vietnam performed trials with Organic REV-treated Smart Fertilizer in Mustard Greens.  The results were impressive – Rynan Smart Fertilizer +REV outperformed Smart Fertilizer alone, and dramatically outperformed Conventional Fertilizer alone by producing a 25% increase in yield over the standard fertility protocol.
 Click HERE to view a summary overview of the testing data.